Your branded video channel, featuring on-demand and live streaming
Showcase content with a branded channel powered by your brand.
Monetize videos instantly
The most comprehensive collection of tools available today to easily monetize your content, whether you're a large corporation with hundreds of employees, a media firm with a large portfolio of content, or just getting started with your own broadcast.
Upload recordings or livestream your video
Distribute through Pages, Channels, or your own product
Create one main channel and add as many extra channels as you like.
Organize your videos by categories and make it easy for users to share and find relevant content.
It has never been easier to set up and broadcast your live streams
Engage your audience
like never before
Viewers can interact, using reactions to express how they feel, in live chats with each other and with you, in real-time.
Reach your users wherever they are
Cross-Product, ubiquitous, unapologetic.
You have complete control over your content privacy and distribution settings with FanHero.
Permission-based
Video Hosting
Get complete control over your content privacy and distribution settings. Set individual content or playlists to public, private, exclusive, pay-per-view, or user-specific by creating a password.
Access unprecedented audience insights
Give your viewers a personalized experience and learn about them with our interactive dashboards.

Measure content engagement with real data from your users' behavior.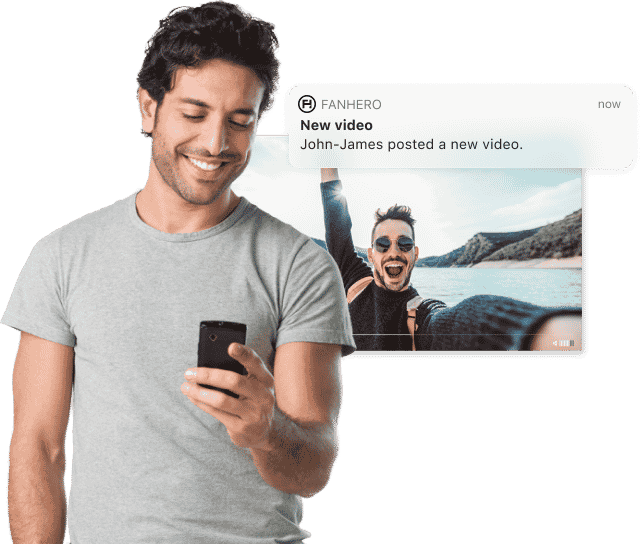 Keep your audience in the loop with push notifications
Keep your viewers engaged by letting them know when you publish new content or you´re hosting a live stream.
Unlock your content revenue
Live stream to VOD
FanHero records your live stream so you can host it on your channel and share it later.
Cloud DVR
Let your audience take control. Pause, play, rewind and fast forward your content.
Social Media Live Clipping
Create and publish clips of your content on social media product.
Embed your content anywhere
Share your videos and live streams on other websites and social media.
Monetize
Charge access to your content or sell sponsorship time with pre-roll ads.
Developer friendly API
Customize your app to fit your company's needs.
Headless CMS
Content operations in one place. Cloud hosting that can be accessed anywhere.
Password-Protected Broadcasts
Seamless Integration Options
Create your video channel with fanhero